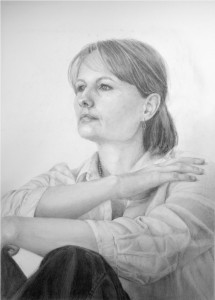 Much of Anita's recent life has been spent living overseas and while those countries have influenced her work, whether the Mexican colour or the constricted life in Saudi Arabia, her passion has remained firmly tied to the British landscape. She is drawn to the shapes within the landscape and how the mood of a place can be hugely changed by the play of light and colour.
Since leaving university Anita has worked under the mentorship of Michael Newberry who has greatly influenced her work and has taught her an enormous amount about advanced techniques used in painting by classic artists such as Vermeer and Rembrandt. Anita's favourite artists continue to inspire her – Hockney's bold use of colour, Diebenkorn's manipulation of perspective and Thiebaud's ability to turn the most mundane objects into works of art.
Anita's work is in private collections around the world from Mexico to London.
1996 – 1997 Foundation Course in Art, Design and Media, Winchester School of Art
1997 – 2000 BA (Hons) Fine Art, University of Portsmouth