It appears that I have missed several weeks – note to self, do not forget blog post!
It's a been a strange, few weeks with great highs and horrible lows.  Selling a painting is always a high but selling several is indescribable!  Two old pieces that went to an old friend.  Its nice when the work that has been stored under the bed is making its way into the light again.  A few months ago I had an enquiry about a piece and she cam back and said she would like the painting now.  That makes 5 sales in the past month, which after two years of not selling anything is mind-blowing!  How to keep this going, now there is the million-dollar question.
Studio wise I have been working on more boats with five more completed. Four completed and one which is beached for the moment as I am not quite sure if it is there yet.  They got less and less free and more and more constrained as they have gone along.  I have noted that I am worrying about the form, shadows, lights and distance and I need to overcome that.  And the blue palette endures with the exception of a burst of orange in one of them.  I need to grow my palette a bit.  I am only showing two of the five here.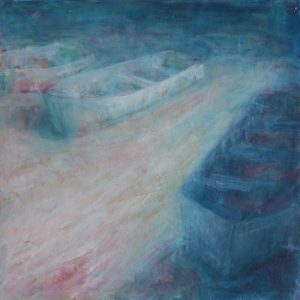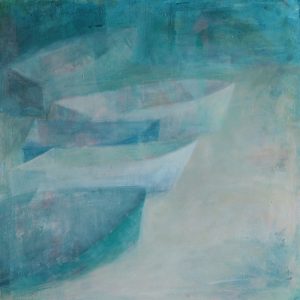 I'm struggling with the smaller panels now because I don't know what I want them to be.  Maybe that is the whole issue.  I should just let the grow the way they want to grow!  I think I haven't helped myself to reducing my palette into a seaside/landscape palette of greens, off whites and blues.  Something else needs to step in and maybe its time to do something drastic to shake them out of the doldrums.  There have been tears over these panels!
The collages trudge onward, one at a time, and the pile grows ever higher.  I'm not sure what I should do with those when I have completed this challenge.  Here are the latest block of nine, the seventh so far.
I'm thinking about a few things at the moment.  Colour – because I love the theoretical use of colour.  How a colour can change because of what surrounds it.  A blue that looks dull against white can glow against more muted colours.  Glow and/or luminosity – it would be lovely to get that into my work.  And also I would love to reduce my value range so it is closer and only when you are close up will you notice the subtlety of the differences.  Of course subject matter is always something that I am thinking about, to paint abstract or to paint realism.  Interestingly the buyer of my old work said that I had converted her to abstract.
The biggest question that still continues to derail me is, is it necessary for an artist to like/love their own work or is it enough to love the process even if the final painting is not something you would choose for your own home?  I will leave you with that, all answers gratefully received!