A couple of days late – but I made it in the end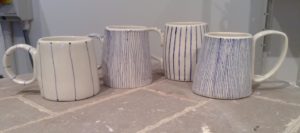 Last week I vowed to write a blog post each week. I'm a little late, but I got here in the end.
I've been thinking a lot about ceramics lately and specifically about decorating them.  Some of the pots I make have pictures painted on in glazes and that is how I started out transposing paintings onto the ceramic surface.  But now I am finding myself more influenced by pattern as well and in particular my love stripes.  I have always had a soft spot for stripes – I own at least five blue and white striped shirts with stripes of different sizes and blues in various hues.  I love mattress ticking fabric with stripes in charcoal grey.  I like fat stripes and thin stripes, equally spaced stripes and random stripes.  My favourite skirt in my teens was a blue and white striped denim skirt, though it did make your eyes do funny things when you ironed it.  I love a striped tie, though my husband refuses to wear one, a pin-stripe suit, Breton shirts (I have at least four) and I knitted myself a Breton jumper recently too.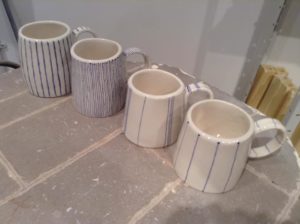 So no surprise that I am now painting stripes on my ceramics.  It started with mugs and I have now added stripes to oil and vinegar jugs and to carafes and  soon I am going to play with striped plates.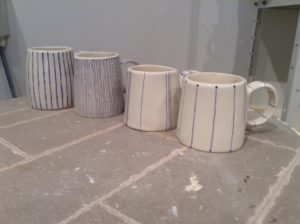 The lines are not perfect but I rather like them that way, a definite wobble makes it seem more organic, less self assured and somehow adds a little character.  These four mugs were my first attempt at handles too.  I looked at traditional handles and tried one of those, but I rather like something a little more quirky.  The triangular handle (top right in the top picture) and the round handle (top left in the top picture) are my favourites.  It is really important that a handle be comfortable though – I need to test them out to see which works best.  Please let me know your preference.  I was also testing mug shapes and have gone for a mug that is wider at the base than at the rim.  I have a dozen more made and ready for their first firing and am looking forward to decorating them too – with stripes!