8th – 14th March, 2021
It has been a funny old week.  I haven't really felt that I have done anything really major but I've been working on a whole bunch of smaller things.  I did however count up the work I have completed in the past year and am pleasantly surprised to find I have finished 56 panels!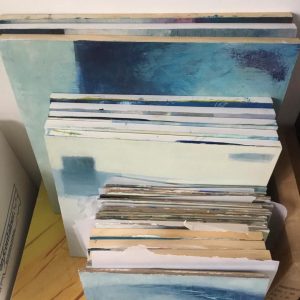 For the course I am taking this week's assignment was to make a desire board – the object of the exercise is that if you say it out loud you are more likely to achieve it. It sounds so much easier than it is in practice.  I found it incredibly emotional and seeing other people's boards made me wonder if I wasn't dreaming big enough.  After talking to a fellow artist about it she pointed out that my desires were very precise which may stop some of the things happening.  For example, I would love to travel and I had put the exact locations of where I want to go – maybe I should just leave it at travel.  She asked me why I want to walk the Camino de Santiago and after listening to my reasons she said so maybe its more about an adventure.  She had a lovely definition.  That a tree is the tree it should be and maybe, if I am a tree, am I pruning my tree and forcing it into a shape that it doesn't really want to be instead of just being me.  Wise woman!
Shouting out to the universe that my dreams include a studio large enough for painting and to do ceramics, a kiln.  This is the highest on my list as I am currently working on my "dining" table (basically a piece of old melamine on trestle legs) in the dining room.  I would love to have a painting wall to hang pieces in progress.  And storage for all the art materials and completed work.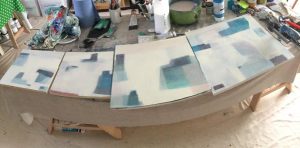 Another exercise for this week was to do a board that showed past, present and then ideas of what you want your future work to look like.  I was so surprised by how far my work has come in a year.  Pleasantly surprised.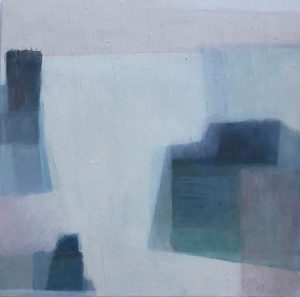 I have been working on some more panels with the rocks and beginning to wonder if I am ever going to escape them.  I am sure that there will be some new things coming up.  With just one panel near to completion this week, and four more at various stages, there doesn't feel like much to show.  I am introducing some Quinacridone Burnt Orange into my palette and the blues are less prominent though still there.  QBO (for short) mixes into a lovely pink, warmer in temperature than one mixed with red.  And the greys when mixed with Cerulean blue are soft.
I'm happy that the feeling of spaciousness is there, and they feel calm.  I am wondering how small you can make the rocks and still have composition that works.  I might have to try that in some sketches.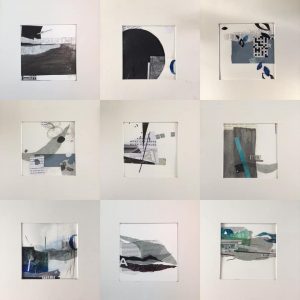 Completed another week of collages, some that, as usual, seemed really hard.  Today I cut some organic shapes that looked like trees and just hated them.  They do not feel at all like me and I ended up covering them up with a large amount of grey paper.  One more to do for the next nine to be complete and then I am a third of the way through my challenge of 81 pieces.