Inspiration Boards and AHA Moments
Monday March 1st, 2021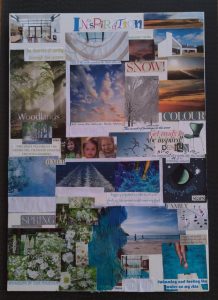 Today is the first day of CVP for the year (Creative Visionary Programme) with Nicholas Wilton and his merry crew.  This is my second time taking the course.  Hoping to dig deeper this year and get a more nuanced view from the lessons.  First thing on the course is creating an inspiration board of all the things that light you up.  These should show you the way to go when creating your art, though I haven't yet seen how that works, even after a year.  This year I have edited my board from last year.  I like the idea of adding to and taking away from the board.  Calder has made my board in place of Giacometti for inspiring artwork.  Seeing the Calder mobiles in the National Gallery in Washington D.C. was gobsmackingly mesmerizing.  They are HUGE and fill the main hallway.  There is also another exhibition of smaller mobiles where the lights and the moving mobiles throw amazing shadows in the space.  My grandchildren have made the cut this year, they inspire me to be better at who I am and what I do.  Water is featuring heavily – maybe I should take note of that, and my garden of white flowers – I always feel alive when I am working in the garden.
Tuesday 2nd March
AHA moment struck – last year I just couldn't get why we did the inspiration boards.  All year I puzzled about why we had done them and I couldn't see how I was going to incorporate the things I love into my art.  And then it came to me as I looked at the board I edited from last year.  Yes I love nature – but what I love most is wide open spaces.  Its not my love of flowers because I am really sure that I don't want to paint flowers at the moment – but my garden only has white flowers and its my minimal palette that I should take note of.  Geometrical lines of modern architecture – I like regular shapes and scribbles feel a bit alien to me.  I love clean design and Calder's mobiles because of their lack of detail. The question is how to create a clean, spacious painting that feels calm.
Friday 5th March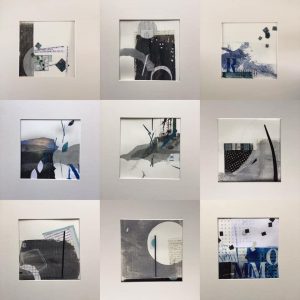 Completed the second nine of my collages.  They are still taking me a long time to do.  Shuffling little slivers of paper about till I finally just think, stick it!  I tried printing off some of my own papers using stencils.  I really like the letter forms and I need to work on making some more of those.  Watched a lady on Instagram reels today who was printing onto fabric – with a cut beetroot, and a strawberry, and then printing off the bottom of a cut-glass bowl.  Love the idea of trying some of those onto my collage papers.  Though the organic shapes are less my thing but it might help me get to using them.  Suddenly there is no junk mail in the house as everything makes it into my collage box.  Even tiny little pieces, it might just be the bit I really need tomorrow!
Saturday 6th March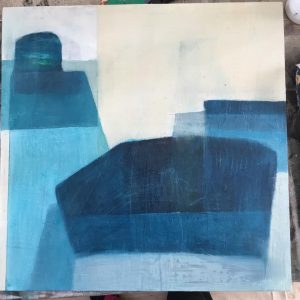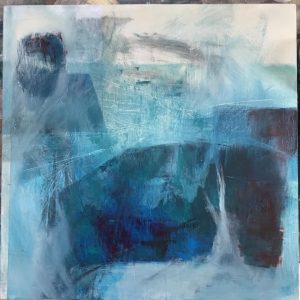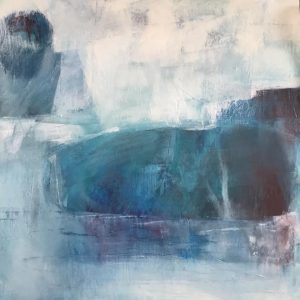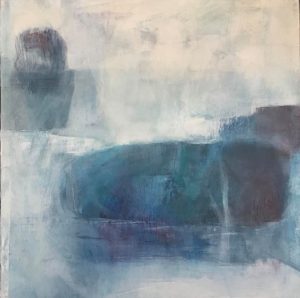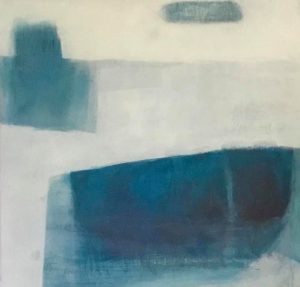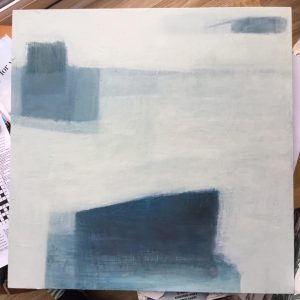 I think I have come to the end with this piece. It's been a journey and I have put in the progression photos – it changed quite a lot.  I painted this onto a previous piece that I was just not happy with.  I have another on the go, it's got bits of pink in it – shock horror!  Though I don't know that I am totally done with blue.
Ridiculous response on Instagram to my collage post – I just do not understand what people like and why they like it.  It does seem that the more you post and the more you interact with others the more they interact with you.  Interesting conundrum then is what is the optimal time to spend on Instagram.  Still trying to get my followers over the 1000 mark as that seems to be the optimal number to then get shown to people who are not your followers.  Having said that 80% of people who saw today's post were not following me.