I've been back in England for the past 4 months and have discovered a new passion.  Painting ceramics.  I lurched into Christmas baubles and found that they were extremely well received and from that I have decided to give painted ceramics a go, alongside my paintings.
I started with doing just a couple of dozen and then had 4 commissions and ended up with only one without a home – and that was only selling to friends!  They are a mixture of glazed and painted with acrylics and varnished.  The glazed ones do  not have quite as fine detail as the acrylic painted ones but otherwise there is really only the feel in your hand to tell the difference between them.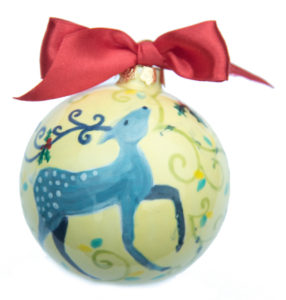 On the lookout for some non-seasonal ideas too to fund the seasonal ones and to pay for food to keep the starving artist alive!
I'm very excited about the coming year – and more than a little nervous!  Seems like a huge leap in the dark – but then why not?