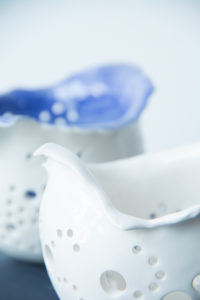 I have been following Alyson Stanfield, Art Biz Coach, for years.  Recently she wrote an email about reviving your blog.  Her points were interesting on why you should do so.
"1 – Blogging adds fresh content to your site"
Logical – but also shows the directions your work may be taking.  My work is definitely changing but very much influenced at the moment by the fact that I am going to be a taking part in a large Christmas Fair at Waddesdon Manor in November.  I am now eight baubles shy of completing the 240 I have planned for the Fair.  I have been also overtaken by a passion for making pottery – who knew that playing in mud was so much fun.  Oh yes, I did.  As a child I used to make little mud pots out the clay-like soil and bake them in the sun.  So lots of pots to come on my revived blog!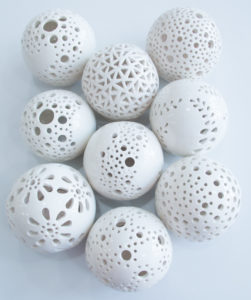 "2 – Blogging helps you grow as an artist"
Alyson's point here is that sharing helps you refine your goals – a bit like talking out a problem suddenly can make something clear in your own head without anyone else ever providing an answer.  I admit to talking to myself all the time and it does help so maybe writing is just another form of talking out loud.  And it is always wonderful when someone responds to work you show.  Its amazing how that buzz of positive energy can revive a flagging spirit.
"3 – Blogging can make you an expert"
Hmmm – not sure about this one.  I am not an expert and am not sure that I would ever make  myself out to be one.  Though I do admit to liking the idea of one day being one but I think that is a way off yet.  Maybe reviving my blog will help me get there.
"4- Blogging helps you provide content you can repurpose"
You can use content to help with writing artist statements – again not had to do this for a very long time.  Last time was for the degree show and it was a nightmare.  Like number 3, maybe this is going to come up in the future.  I'd like to think that possibly, in the future sometime, I might have work in a public sphere that will require an artist statement.
Finally, Alyson suggests that you should blog for yourself.  Don't write to please others but write from the heart.  I am a real people pleaser, sometimes to my own detriment so I am taking this one on board and am going to be a bit more honest with myself.
If you are an artist, I would also suggest following Alyson as she has a wealth of knowledge at her fingertips.
As a result am I am going to try and be a little more regular at writing my blog.  Goal is a post a week.  What shall I write about next week?